WYNDHAM IS STILL SOARING… AND THAT'S IMPORTANT
Despite the euro debt crisis… and despite weak job numbers, Wyndham Worldwide (WYN) continues to surge.
And that's important…
This year, we've featured many charts that display how the U.S. economy, while not "great," can't be doing "all that bad."
For example, we've noted the solid price strength in Home Depot and transportation stocks.
We've also cited the strong price action in hotels.
The profits and share prices of hotel operators rise and fall with America's ability and desire to take business trips and vacations.
Thus, they are excellent "real world" economic indicators.
And Wyndham is about as "real world" as it gets.
Wyndham is one of the most important stocks you've never heard of. It's the world's largest hotel operator. Brands here include Super 8, Howard Johnson, Ramada, and Days Inn. Wyndham owns several "upscale" hotel chains as well.
As you can see from the two-year chart below, Wyndham is enjoying a huge uptrend.
Just last week, shares struck a new all-time high.
We look at this extraordinary strength and say, "Sure, there are problems with the U.S. economy… but if Wyndham is soaring, things can't be all that bad."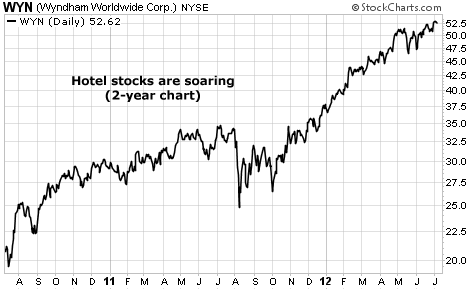 – Brian Hunt
Source: Market Notes