A BIG REVERSAL FOR THE "AG" COMPLEX
A classic "boom and bust" sector is breaking out of a long bust…
DBA is a "one click" way to own a basket of agricultural commodities like cattle, coffee, corn, wheat, soybeans, and sugar.
Prices for these products depend on a variety of "slow" seasonal factors, ranging from the weather to how much seed farmers plant.
So once a trend gets going in the "ag" complex, it tends to run for many months, giving it its "boom and bust" nature.
As you can see in the chart below, DBA saw a big boom in late 2010 and early 2011.
Elevated prices caused farmers to plant bigger crops… And that led to a long bust through the rest of 2011 and most of 2012.
But hot, dry weather in the U.S. and Russia is driving up grain prices.
And DBA has seen a major reversal.
The fund is up 13% in a month. If 2010 is a guide, this new trend could turn into a rally that lasts for months.
– Larsen Kusick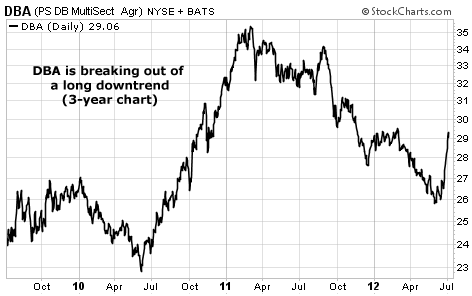 Source: Market Notes