Right now, any serious investor should be interested in buying shares of Intel… and collecting its 3.2% dividend.
Intel is one of the world's best companies. It has an 80% share of the semiconductor market. It's more financially stable than most countries. It's increasing its dividend at an average annual rate of 32%. And its shareholders have enjoyed eight years of uninterrupted dividend growth.
But if you're willing to try a new investment technique, you can earn the company's entire 3.2% yield in just two months.
You just need to learn how to sell covered calls…
Although covered call writing involves the use of options, it actually is quite simple.
When you write a covered call, you buy a stock and then sell someone else the right to buy it from you in the future. (You can read more about how it works here.)
As we showed you earlier this month, right now is a great time to use this strategy.
The recent drop in the market has boosted covered call payouts.
And it has pushed Intel back down into "cheap territory"… At these levels, Intel is trading at less than 10 times next year's earnings.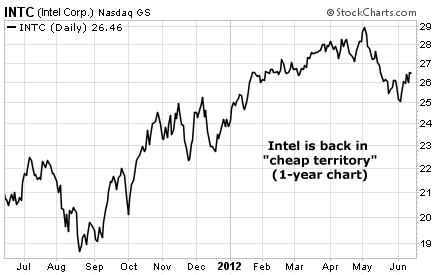 So here's how a covered call trade could work with Intel…
Right now, you can buy shares for around $26.50. And you can sell the August $27 calls for about $0.84.
This trade would result in an immediate 3.2% premium on your shares. That's the full amount of the annual dividend.
If Intel closes above $27 come August, you're obligated to sell at $27. You keep the $0.84 premium and collect another $0.50 in capital gains. That's a total 5.2% return in just two months… or about 30% annualized.
If Intel closes below $27, you hang on to your shares, and you can sell another round of calls. Do this "3.2% in two months" trade six times a year, and you'll collect a 19% income stream.
Add in the regular dividend, and you're collecting an annual cash yield well over 20%.
Now remember… when you sell covered calls, you are selling away the big upside that owning a stock offers. But if you're like many investors and traders, you're not interested in reaching for the moon right now. You're interested in a safe, 10%-20% return in a year.
That's the kind of return a covered call seller is looking at with Intel right now. For folks interested in unconventional, short-term income ideas, Intel is a great place to look.
Good trading,
Amber Lee Mason and Brian Hunt
P.S. "Trading for income" strategies like this are a cornerstone of our new DailyWealth Trader service. And we've created an exclusive video to show you the best ways to put them to work. It walks you step by step through our "greatest wealth secret." You can view it free here.
Source: The Growth Stock Wire